News
Thu, 12/12/2013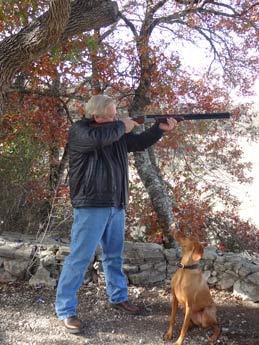 Realistically we have only two seasons here in this Texas Hill Country. The autumn/winter seasons sort of run together with mostly mild days, intermittent cold nights and lots of sunshine for six to eight months. Then spring comes and all too soon yields to 4 months of warm (sometimes VERY warm) summer weather, marked by long, sunny, and mostly dry days. As for Joshua Creek Ranch, we have just two seasons as well.
Read More
Wed, 08/28/2013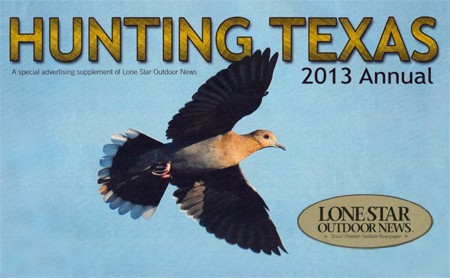 The Beretta Trident Program is a rating system of the very best sporting venues across the world. Only five percent of lodges internationally meet the stringent standards of the Trident Program, offering an exceptional collection of hunting, shooting and outdoor experiences. To date, Joshua Creek Ranch near Boerne is Texas' only Beretta Trident Lodge.
Read More
Wed, 08/28/2013

Shotgun shooting venues are particularly attractive as an outdoor activity for couples and families as well as guys out for some friendly competition. Joshua Creek Ranch offers an exceptional experience to every hunting guest every time they visit.
Click here to read more about Joshua Creek Ranch as a Year Round Destination
Read More
Wed, 08/28/2013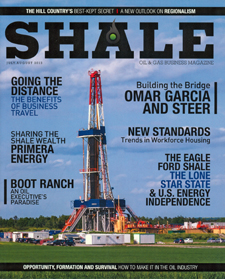 Wingshooting and deer hunting destination Joshua Creek Ranch confirms and continues its reputation for excellence.
Read More
Thu, 03/07/2013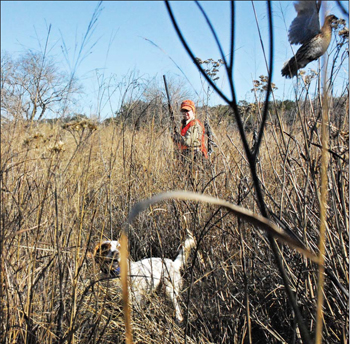 Boerne - Any day is a good day to be in the Texas Hill Country. Walking along behind a bird dog as a quail rockets into the cloudless blue sky just makes it a little better.
Read More
Wed, 01/02/2013
"Joshua Creek Ranch is a spectacular venue for anything that has to do with shotguns or wingshooting. It's one of Beretta's prestigious Trident lodges and boasts an impressive 2 Trident rating that's well deserved. Set in the hill country of Texas, the ranch is one of the prettiest places that you could imagine." Read the full article.
Read More
Thu, 12/13/2012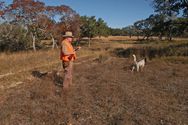 Joe Kercheville, owner of Joshua Creek Ranch, walks in on a covey of quail during an afternoon hunt. The ranch offers hunts for quail, pheasants and chukars, as well as big game species like whitetails and axis deer.
Read More
Sun, 11/11/2012
Enjoy Joshua Creek's Feature Article in Sporting Classics magazine. Here's what Publisher and Editor Chuck Weschler experienced at Joshua Creek Ranch!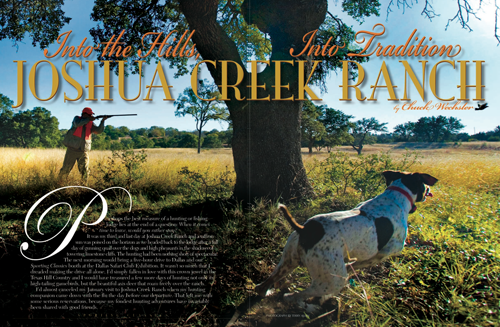 Read More
Sat, 11/10/2012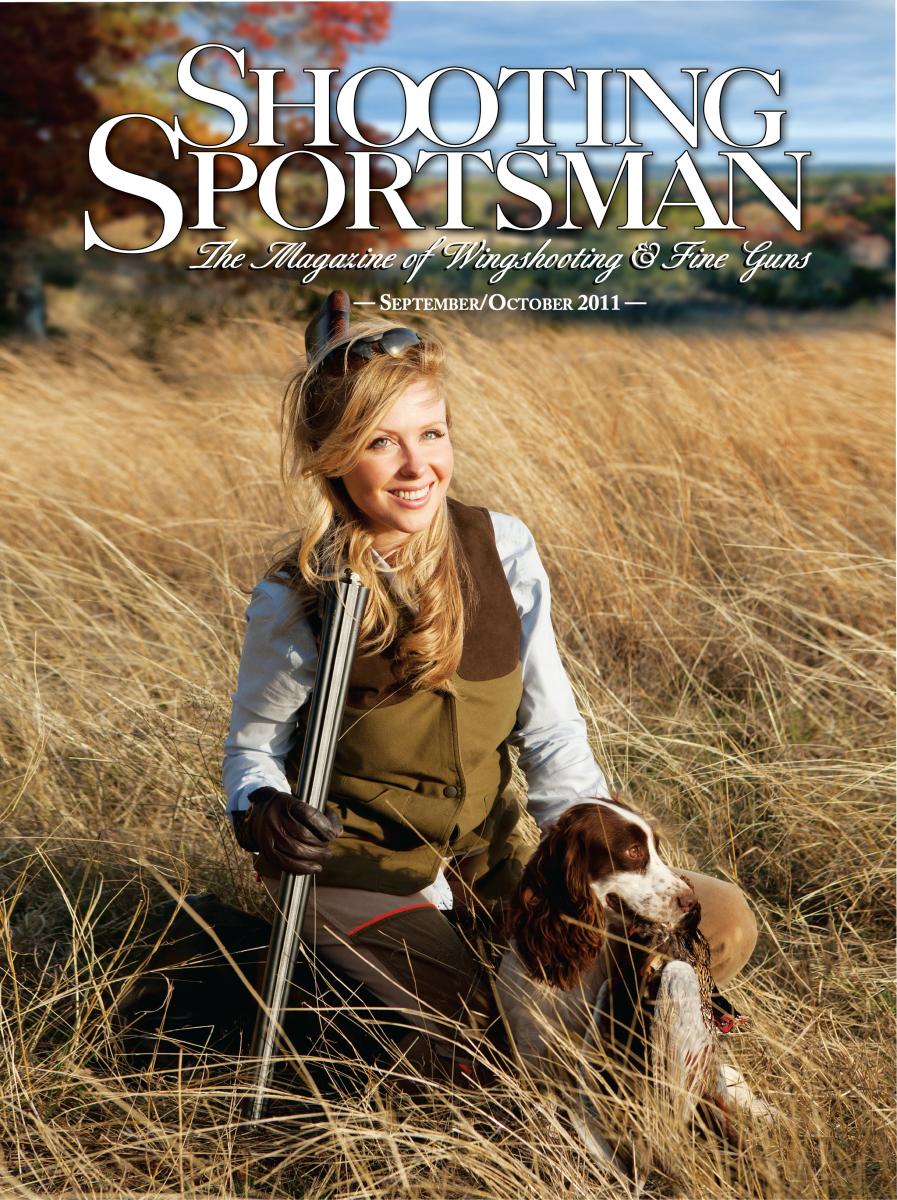 There are those experiences that you want to repeat. They are the kind you wish will stick like beer- battered pheasant to your ribs. Texas Hill Country is a foreign land to me: 1,400 feet high, lush and green, bugless save for the crickets and dragonflies, and cooler than nearby San Antonio. Such country could be in many places—a small town in Martha Stewart's Connecticut with perfectly coiffed horse fences or the hills of Marin County, California.But this Hill Country is in Texas, slightly north of San Antonio, between a town called Welfare and one called Comfort. There lies a ranch on Joshua Creek. - Joshua Creek Ranch -
Read More
Thu, 11/01/2012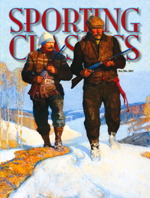 Joshua Creek Ranch is nestled on an isolated stretch of the pristine Guadalupe River - a mere 40 minutes Northwest of San Antonio. The ranch's diverse terrain is perfect habitat for the best quail hunting in Texas, with the added bonus of pheasant and partridge. Joshua Creek Ranch offers walkup hunts behind exceptional pointing and flushing dogs with experienced, professional guides in addition to continental or European-style driven shoots.
Read More