Lodge at River's Edge
Joshua Creek Ranch operates Lodge at River's Edge Cabin located on the Frying Pan River in Basalt, Colorado. Just a short 20-minute drive from Aspen and a few minutes less to the Aspen airport.
Enjoy fly fishing and water sports in the summer sun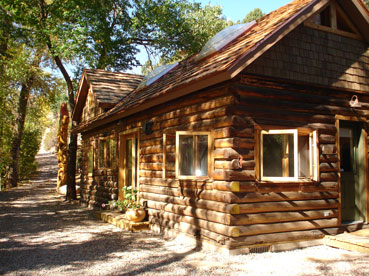 Summer is high season in this area where average temperatures range from a cool, crisp 50 degrees in the morning, warming up to 80's by late afternoon. Frequently, summer showers crop up to cool the afternoon temperature down into the 70's. Opportunities for summer activities abound, especially fly fishing on four rivers within a 45-minute drive from the Lodge, the closest being the Frying Pan which is right outside the Lodge's back door. The Roaring Fork River is five minutes away; the Taylor and Colorado Rivers are also within 45 minutes drive time. The Frying Pan River is a "gold metal" river with native rainbow trout and brown trout in abundance.
Besides fly fishing, other summer activities include white water rafting, hiking, biking, golfing, evening music, and theater performances, festivals and more.
Big game hunting in the autumn is easily accessible from the Lodge.
Ski and relax surrounded by snow in the Colorado winter
Winter sports are just 20 minutes away at nearby Aspen and Snow Mass, two of this country's top ski resorts. If skiing is not for you, then try the winter fly fishing on the Frying Pan River, where monster rainbow trout hungrily await your fly.
Free transportation is available year-round from Basalt to Aspen, Snow Mass, and other destinations in the Roaring Fork Valley.
Tucked into the landscape is an historic log cabin, originally built by Colorado Midland Railroad workers in 1896, and restored in 1996. The cabin comfortably sleeps two to four guests and includes a fully-equipped kitchen, coffee maker, cable TV with DVD Player, wireless internet, a bedroom with a queen bed, a loft with two twin beds, living room with a pull out futon couch, radiant in-floor heating, a gas stove and outdoor grill. The cabin is a favorite among our guests!!
Enjoy relaxing by the river in your own private flagstone sitting area just outside the cabin's front door! The cabin is located directly on the Frying Pan River and is one block to Basalt's restaurants and shops!
SUMMER RATES - $295-$375 per night with a 3 night minimum.
WINTER RATES - $195-$295 per night with a 3 night minimum.
Daily housekeeping is available at an additional charge. For Information please contact:
Christy Clettenberg, General Manager/Property Manager
970-927-4991
Email us at info@lodgeatriversedgeco.com.
When you feel like you're "well done" from the summer heat or you want a superior winter experience, book a stay at Lodge at River's Edge Cabin in beautiful Colorado!