News
Wed, 08/25/2010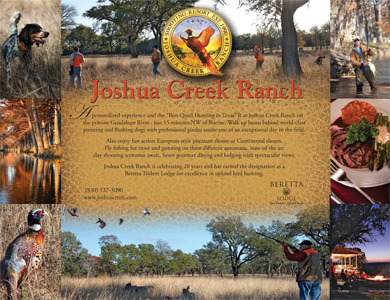 Check out our new full-page ad!
Read More
Fri, 07/02/2010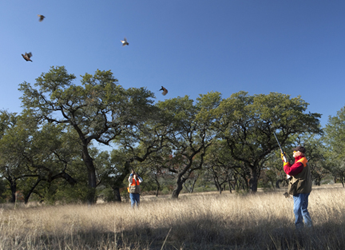 San Antonio, Texas - Joshua Creek Ranch, a sportsman's shooting resort located in the Texas Hill Country,recently announced their distinction as a Beretta Trident Rated destination earning a "Trident" for excellence in upland bird hunting. The BerettaTrident Program - a unique, quality rating-system based on a stringent assessment of a shooting sports venue, is not an endorsement that can be purchased.
Read More
Thu, 05/20/2010
Beretta USA Corp, a division of Italian arms maker Beretta, recently launched a ratings system for hunting lodges and resorts, called the Beretta Trident Program. Hunting professionals and wildlife experts evaluate a lodge or hunting venue while the game is in season, judging the property on the quality of hunting, guest services, food and wine, and the hospitality and professionalism of guides.
Read More