News
Mon, 09/10/2012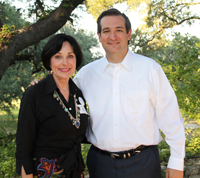 Read More
Sat, 08/25/2012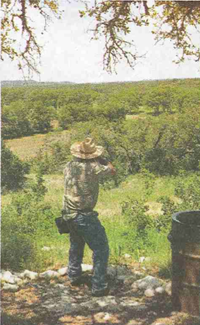 "The sporting clay event will take place on Saturday, August 25 in the sportsmen's paradise of Joshua Creek Ranch near Boerne. The hunting and sports retreat features miles of Joshua Creek and Guadalupe River bottomland bordered by limestone bluffs rising to the tree-studded pastures lush with native grasses." Read the full article.
Read More
Wed, 08/15/2012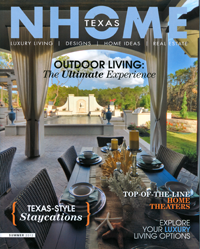 "If you are more in search of a ranch-style experience, look no further than just outside beautiful Boerne to the Joshua Creek Ranch. The Ranch opened for guests in 1990 on some of the finish hunt country in America.Over the last 20 plus years, it has been develop and nurtured, resulting in a sportsman's paradise. The ranch is a rare combination of diverse Texas Hill Country topography with crystal clear spring-fed Joshua Creek cutting throughout the middle of the rancho converge into the renowned Cypress-lined Guadalupe River that forms the ranch's north boundary."
Read More
Wed, 08/15/2012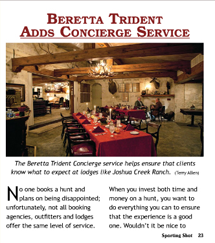 The Beretta Trident Concierge service helps ensure that clients know what to expect at lodges like Joshua Creek Ranch.
Read More
Wed, 08/01/2012
DSC members support the important mission of education, conservation and hunter advocacy. They also reap benefits such as discounts with certain merchants. Click through to learn more about the prize hosted by Joshua Creek Ranch.
Read More
Mon, 07/30/2012

"For an off-site [meeting] interspersed with high-adrenaline team building, carve out time for Joshua Creek Ranch. The setting is rugged Texas terrain at its most alluring, encompassing river bottomland prairie grass, limestone bluffs and rolling pastures shaded by oak and elm trees. There's enough meeting space for up to 120 and a host of outdoor pursuits available, from trap shooting and fly fishing to kayaking and tubing."
Read More
Wed, 07/25/2012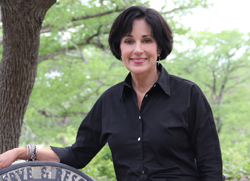 Ann Kercheville's lifestyle column titled "Shotgun Wife" – Chronicles of a Hunting Lodge Life - which is featured on Shotgunlife.com - the popular shooting and hunting website, entertains hunters and shooters through columns which address the day-to-day life at an award-winning hunting lodge – everything from – meditation in a deer blind, to the hunting lodge household, how to measure success and more.
Read More
Mon, 07/09/2012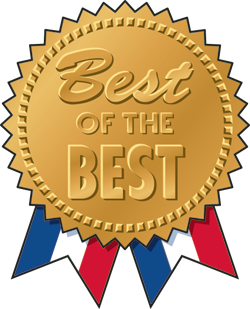 Best of the Best - JCR takes home Gold Award for Lodging and Silver Award for B&B
Read More
Thu, 06/21/2012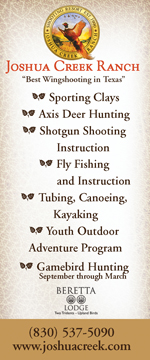 The Hill Country of Texas can be no longer be considered one of the nations' biggest "hidden" secrets. This spectacular area welcomes over five million visitors a year. Still, only a small percentage of people are lucky enough to discover such a beautiful countryside within a genuine "down to earth" community. The picturesque landscapes are more than enough to make even the most seasoned Hollywood photographers jealous!
Read More
Wed, 06/20/2012

Nestled between San Antonio and Austin in the Hill Country of Texas, a small, unobtrusive sign that depicts a pheasant and simply says "Joshua Creek Ranch" dots a country corner where winding roads intersect.
Read More