News
Fri, 01/14/2011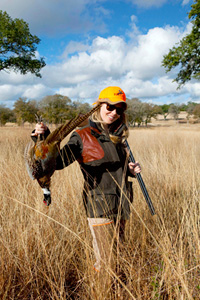 "I was just in Texas Hill Country in a beautiful place called Joshua Creek Ranch. It is part of the Beretta Trident program, and one of only 4 ranches in the country to receive a Beretta Trident… it's kind of like the Michelin Guide to the hunting world." Read more at Georgia's blog.
Read More
Tue, 01/11/2011

If any state in the union owns up to family sagas, it's Texas.
And that's where we met the Kerchevilles while shooting pheasant, chukar, quail and Hungarian Partridge at their Joshua Creek Ranch. Read the whole story here.
Read More
Fri, 01/07/2011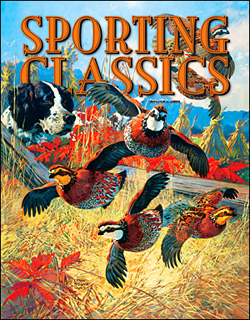 At the end of the day on a recent stay at JCR, Chuck Wechsler, lifetime world traveler, hunter , writer, and publisher of Sporting Classics magazine said, "This is the best day of quail hunting I've ever had in my life."
Read More
Fri, 01/07/2011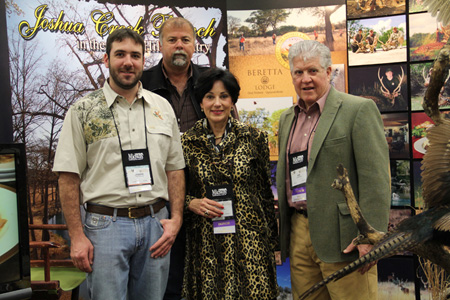 The The first major hunting and outdoor sports show of the year -The Dallas Safari Club Annual Convention and Expo kicked off 2011 at the Dallas Convention Center on January 6-9.
Read More
Thu, 12/09/2010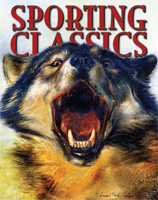 Joshua Creek ranch was recently featured in Sporting Classics magazine as the perfect place to hunt and visit. Click through for the full article.

Read More
Wed, 12/08/2010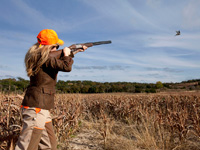 Click here to check out Georgia Pellegrini's story about hunting pheasant and cooking them up at Joshua Creek Ranch.
Read More
Mon, 11/15/2010
Joshua Creek Ranch welcomed Big Billy and Robin Kinder for an exciting Axis Hunt. Billy Kinder - well known broadcast personality and the star of Big Billy Kinder Outdoors, heard on multiple stations in Texas and in their hometown Dallas, visited Joshua Creek for an Axis hunt and fly fishing. Listen to the show now! For the best listening experience, right click with your mouse and select "Save Link As..." to save the audio file to your desktop.
Read More
Wed, 09/29/2010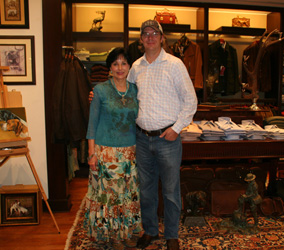 The Annual Dallas Beretta Gallery Days and Trident Lodge Expo is a series of workshops, conversations & guest appearances focused on upland hunting.
Joshua Creek Ranch displayed at the two day Expo at the Dallas Beretta Gallery.
Read More
Mon, 09/06/2010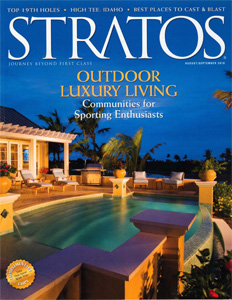 Beretta, one of the oldest companies in the world and perhaps the world's premier firearms manufacturer recently introduced the first and only systematized, objective process to rate shooting sports venues - The Beretta Trident Program. Click here to learn more about this exciting new program!
Read More
Mon, 08/30/2010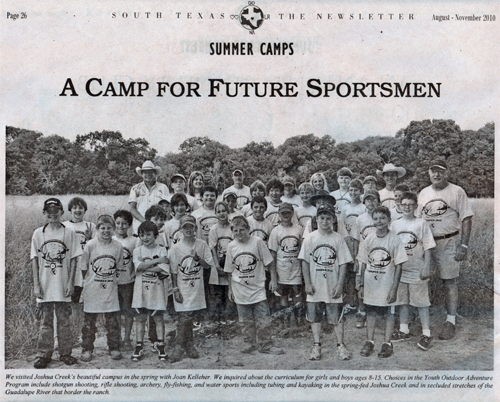 Since 1993, the Youth Outdoor Adventure Program at Joshua Creek Ranch has been teaching kids 8-15 shotgun shooting, rifle shooting, archery and fly-fishing. Additionally, participants thrill to water sports including tubing and kayaking the spring-fed Joshua Creek and secluded stretches of the Guadalupe River that border the ranch. Ten day sessions are scheduled June through mid-August.
Read More