Joshua Creek Ranch Earns Beretta Trident Lodge Designation for Excellence in Upland Bird Hunting - The only Shooting Resort in Texas to earn this distinction -
Fri, 07/02/2010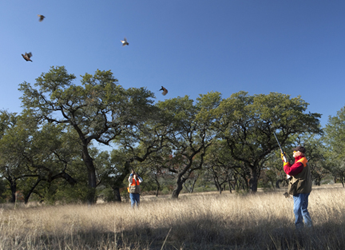 San Antonio, Texas - Joshua Creek Ranch, a sportsman's shooting resort located in the Texas Hill Country,recently announced their distinction as a Beretta Trident Rated destination earning a "Trident" for excellence in upland bird hunting. The BerettaTrident Program - a unique, quality rating-system based on a stringent assessment of a shooting sports venue, is not an endorsement that can be purchased. Until now, no such rating-system has been available for hunting and shooting venues. Branded by Beretta, the Trident Program requires venues – offering hunting and or shotgun sports – to undergo a detailed assessment of every area that impacts the guest experience. Beretta, a nearly 500 year-old brand, has permitted its name to be used to signify the exceptional quality of a hunting or shooting experience. Joshua Creek Ranch, one of only four lodges in the country to receive a Trident Rating and the only lodge located in Texas.
"We are extremely proud of our new designation and affiliation with the Beretta Trident Program", said Ann Kercheville, President of Joshua Creek Ranch, "During the past twenty years our main objective has been to provide our guests with an exceptional and memorable outdoor adventure. Just like Beretta we share a commitment to excellence and a genuine passion for the sporting life."
A "Trident" is awarded for excellence-much like Michelin stars are for restaurants. While emphasizing the outstanding hunting or shooting experience, the evaluation system recognizes and rates everything from the spectacular bird hunting, food on the table to the bird dogs and kennels. Every aspect of a venue is judged and assessed on a point and percentage basis. A Trident evaluation is thorough and very rigorous. The necessary quality standards must be both attained and maintained for the destination to stay in the program and ensure that the time-honored Beretta brand remains associated with excellence and high performance. When making a reservation with Joshua Creek Ranch, the Beretta Trident rating provides consumer confidence in the quality of the field sports, guest services, and accommodations.
Joshua Creek Ranch, located in the beautiful Texas Hill Country, is nestled on an isolated stretch of the pristine Guadalupe River - just 40 minutes Northwest of San Antonio International Airport. The ranch's diverse terrain includingTexas prairie grasses, high bluffs that present a dramatic backdrop to crystal clear Joshua Creek, and magnificent, ancient oaks areperfect habitat for the best quail hunting in Texas, with the added bonus of pheasant and partridge. In addition to upland bird walk-up hunting behind exceptional pointing and flushing dogs handled by experienced, professional guides, Joshua Creek Ranch offers Continental shoots and European-style driven pheasant shoots. Sports enthusiasts also enjoy fly-fishing for trout and gunning on three different automatic, state-of-the art clay-shooting scenarios. There's great Axis Deer hunting year round and white tail and Turkey in season. Gourmet dining and lodging with spectacular views top off the ultimate outdoor experience. Joshua Creek Ranch is celebrating 20 years as a superior hunting and wing shooting lodge and is the only recipient of the Beretta Trident Designation for excellence in upland bird hunting in the state of Texas.
For more information visit www.joshuacreek.comor call 830-537-5090.