Orvis Endorsed Wingshooting Lodge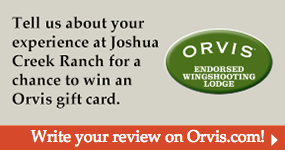 Joshua Creek Ranch is honored to be recognized as an Orvis Endorsed Wingshooting Lodge.
Over two decades ago, Orvis set out to make planning a world-class outdoor experience easier for its customers. The result was the Orvis Endorsement program which represents the best lodges, outfitters, trainers, breeders and guides in North America.
Each endorsed operation has its own character, but all share the same high standards: great service, great fishing and/or wingshooting, and an experienced, professional staff. According to Orvis's Wingshooting Services Manager, Reid Bryant, "hands down the top lodges strive to make a stay at their properties an experience of a lifetime." These standards of excellence are continually reviewed by the Orvis staff and evaluated by visiting guests in post-visit critiques sent directly to Orvis.
Write a review of Joshua Creek on Orvis.com
As one of only 25 Orvis Endorsed Wingshooting Lodges in the world, Joshua Creek Ranch personifies the same quality and service that Orvis has become known for over the last 150+ years. Orvis has an industry-wide reputation as an authority on experiential sporting and travel offerings which is enhanced by the Orvis Guide to Adventure Program.