Joshua Creek Youth Program Featured in South Texas-The Newsletter
Mon, 08/30/2010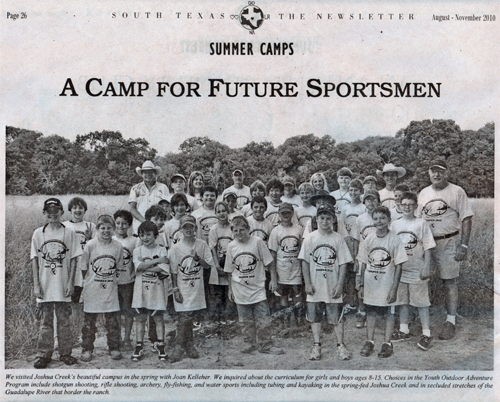 Since 1993, the Youth Outdoor Adventure Program at Joshua Creek Ranch has been teaching kids 8-15 shotgun shooting, rifle shooting, archery and fly-fishing. Additionally, participants thrill to water sports including tubing and kayaking the spring-fed Joshua Creek and secluded stretches of the Guadalupe River that border the ranch. Ten day sessions are scheduled June through mid-August.
The Texas Hill Country is home to many summer camp programs, but the Youth Outdoor Adventure Program (YOAP) at Joshua Creek Ranch offers a totally unique 10 Day curriculum aimed at raising youth awareness of the important role of sportsmen in wildlife and habitat conservation. Much focus is placed on safe, responsible and ethical conduct while handling shotguns, rifles, bows and arrows. The summer of 2012 marks the 19th year that Joshua Creek Ranch will instruct boys and girls 8-15 years old in shotgun shooting, fly fishing, archery, upland gamebird identification, tracks and traps, basic outdoor survival skills and Hunter Education Certification for Ages 9 +. The program includes demonstrations and seminars hosted by trappers, game wardens, wildlife biologists, taxidermists, and local sheriff's deputies. Participants thrill to water sports including tubing canoeing, and kayaking in the spring-fed Joshua Creek and secluded stretches of the Guadalupe River that border the ranch. 10 day sessions are scheduled June through mid-August. Youngsters are under the guidance of experienced sportsman who keep them as focused on safety as they are on fun. They learn the life enhancing skills of ethical hunting and fishing and the responsibility that goes with them, like good stewardship of the habitat and conservation of the wildlife. Participants are also given the opportunity to experience an optional Axis hunt for a doe or a buck, making it possible for them to take part in the management of the expanding Axis herds. For many, it will be the very first Axis buck or doe that the participant will harvest.
To ensure the safe handling of shotguns and rifles and safe conduct during water sports, the counselor to participant ratio is a 1-4 or 5. Several of the counselors are professional guides that conduct upland bird hunts during the hunting season.
This Texas Hill Country program is all about outdoor knowledge and skill building; safe, responsible, and ethical conduct; AND having fun in the outdoors. Reservations are well underway for the sessions to be held beginning in June. The youngster will experience skill building and confidence as well as fun, great memories and new friendships.
Joshua Creek Ranch, located in the beautiful Texas Hill Country, is nestled on an isolated stretch of the pristine Guadalupe River - just 40 minutes Northwest of San Antonio International Airport. The ranch's diverse terrain including Texas prairie grasses, high bluffs that present a dramatic backdrop to crystal clear Joshua Creek, and magnificent, ancient oaks are perfect habitat for fly-fishing and the best quail hunting in Texas, with the added bonus of pheasant and partridge. Sports enthusiasts enjoy fly-fishing for trout and gunning on three different automatic, state-of-the art clay-shooting scenarios. There's trophy Axis Deer hunting year round and whitetail and turkey hunting in season. Gourmet dining and lodging with spectacular views top off the ultimate outdoor experience. Joshua Creek Ranch is celebrating 22 years as a superior hunting and wingshooting lodge and is the only Texas recipient of the prestigious Beretta Two Trident Designation for excellence in upland bird hunting.
For more information call 830-537-5090.