Joshua Creek Ranch Featured in Blacks Wing and Clay
Fri, 05/25/2012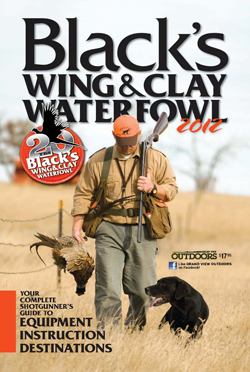 Upon opening for wingshooting in October, 1990, the mission of Joshua Creek Ranch was to provide an exceptional outdoor experience for shotgunning enthusiasts. Combining an extended hunting season ( September through March) with a wide variety of gamebirds, this beautiful Texas Hill Country paradise has been delighting shooters from the USA and beyond for 20+ years. Texas hospitality is extended by an experienced team of professionals who ensure excellence from the hunting fields, to the dining room, to the lodging accommodations, to the pro shop. The Ranch operations have grown and improved every year since opening, adding up-scale accommodations, expanding into fly fishing for rainbow trout, introducing a fully automated sporting clays course, developing free-range trophy Axis deer hunting, hosting a summer Youth Program, and offering conferencing, reunions, private parties, etc. in non-hunting months. Joshua Creek Ranch, aka Paradise in Texas.
When guests visit Joshua Creek Ranch they are awed by the incredible diversity of habitat within this Texas Hill Country ranch. The spring-fed, cypress-lined Joshua Creek cuts through the ranch for two miles, then empties into the pristine Guadalupe River along an isolated stretch that marks the north boundary of Joshua Creek Ranch. It's the perfect habitat for upland birds: from the creek bottom area where fertile fields grow milo and other grain crops, to the grassy hilltop pastures studded with live oaks and cedar elms, to the rugged bluffs and ridges where cackling iridescent pheasants take flight in the tradition of European-style driven pheasant shoots. The gamebird hunting is done in the company of professional guides and their well-trained pointing, flushing and retrieving dogs…all provided to ensure your enjoyment in the field every time you hunt up quail, pheasant, chukar, and Hungarian partridge.
For added variety hunters enjoy free-range whitetail deer and turkey hunting in the seasons established by Texas Parks and Wildlife Department. And for even more excitement, the ranch offers free-roaming trophy Axis deer hunting year-round. Harvest of world-class Axis bucks is commonplace, especially from May through September. The months of November through May hold the added attraction of fly-fishing for rainbow trout in what is this country's most southerly location for trout fishing. The crystal clear, spring-fed Joshua Creek is a fly-fisherman's delight and the ranch stocks rental gear to the wingshooter who'd like to cast a line between bird hunts. Fishing the Guadalupe River in the area of Joshua Creek Ranch could very well produce the elusive Guadalupe Bass, a very sporting fish found only in this part of Texas.
Clay bird shooting is offered year-round at three different fully automatic scenarios: a 12 station sporting clays course, a single wobble trap, and a triple trap wobbler that simulates driven pheasant shooting. Well-travelled shooters describe the Joshua Creek Ranch sporting clays course as one of the most beautiful in the country, with scenic panoramic views of the Texas Hill Country in every direction. Summer river sports round out the outdoor recreational opportunities found at Joshua Creek Ranch. Canoe, kayak, or tube the isolated stretch of the Guadalupe River in the ranch vicinity, taking in the exquisite scenery of this cypress-canopied, cool, clear renowned Hill Country River. Any combination of seasonal outdoor activities can be organized around a conference, meeting, reunion, etc. There's something for everyone to enjoy, even if it's simply gazing at a glorious sunset, or into a mesmerizing fireplace, or a starry sky. The quiet, solitude of the ranch has a way of bringing a sense of exhilaration during the action and tranquility during those quiet times.
With so many different things to offer, Joshua Creek Ranch has been host to countless groups and a diverse clientele for over 20 years.